Boost your health benefits with a hot tub or swim spa
Did you know that relaxing in a hot tub regularly can help to improve your health? You can experience a wealth of health benefits through a water-based therapeutic technique known as hydrotherapy. The combination of heat, massage, and buoyancy helps your body relax and heal by creating a seamlessly weightless environment, improving your circulation, and releasing physical tension throughout the body. By soaking in a hot tub for as little as 15 minutes a day, you can experience all the healing power that hydrotherapy has to offer.
Who Can Benefit from Hydrotherapy?
While hydrotherapy is commonly used for the luxurious and relaxing experience that it creates, it can also lead to healing and relief for many who have certain health conditions. In fact, many hot tub owners purchase their hot tub with symptom management and whole-body relaxation in mind.
Those with the following may benefit from hydrotherapy, under direction from a physician:
Improving Your Health with Spa Hydrotherapy
Could your health and wellness stand to benefit from the healing power of hydrotherapy? Relaxing in a hot tub for as little as 15-20 minutes several times a week, if not every day, can help to relax your muscles, boost your circulation and ease the stress that is both physical and emotional. These healing effects can lead you toward better health and wellness.
Disclaimer: Consult a physician to ensure your best health before using a hot tub to improve or treat an existing health condition or injury.
Aches and Pains
The buoyancy of the water lifts up to 90% of your body weight, creating a feeling of weightlessness. The warm water further helps your body to relax, while massaging from the jets works to ease joint pain and reduce muscle tension.
Trouble Sleeping
Do you have poor sleep patterns? Soaking in a hot tub can help to prepare you for a full and uninterrupted night of sleep through relaxation and stress relief. Simply add 20-30 minutes of hydrotherapy to your day or bedtime routine.
Feeling Stressed
Stress can manifest in both a physical and emotional way through feeling overwhelmed, exhaustion or overexerting your body. Soaking in a hot tub can help you to relax and let go of built-up tension, leading to the gradual release of your stress.
Getting Sick
Soaking in warm water raises your internal temperature, acting as an artificial fever. This process tricks your body into thinking that it needs to create antibodies to fight off an infection or virus, in turn strengthening your immune system.
How Aromatherapy Can Help
Aromatherapy utilizes the healing power of certain scents and oils to help improve one's overall wellness. With the right spa-friendly approach, you can bring the physical and emotional benefits of aromatherapy to your next soak. From lavender and eucalyptus, to Ylang-Ylang, citrus and rose, find your favourite spa aromatherapy product today.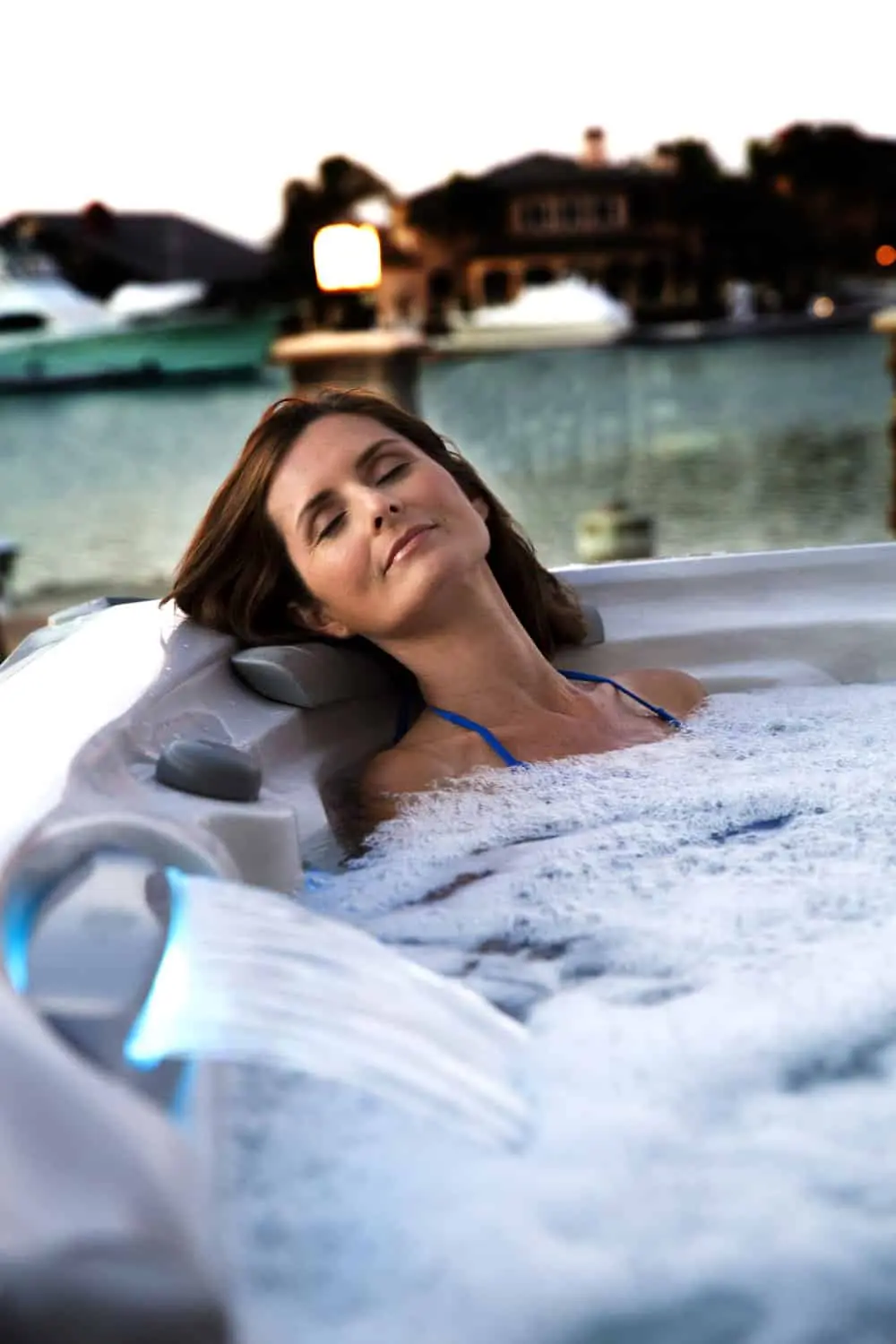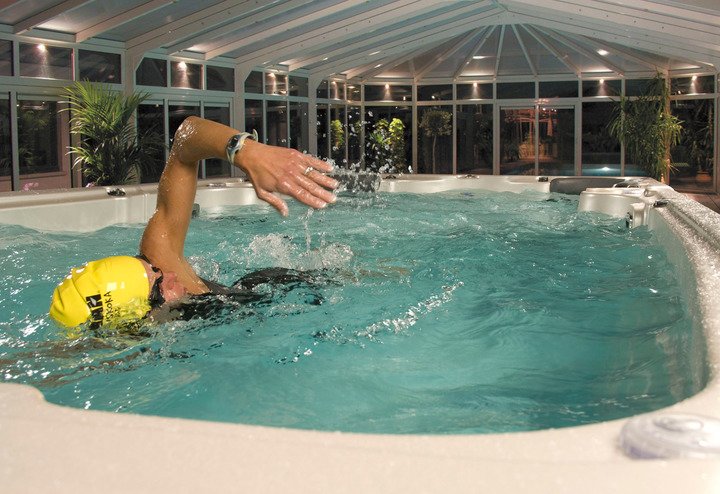 Whether you are a recreational swimmer or a competitive athlete, swim training is vital to develop good fun
damentals, maintain conditioning, as well as boost performance. Members-only gym pools and aquatic centers are fine, but may also have scheduling
issues or raise concerns about public hygiene and privacy. In contrast, swim spas provide all the benefits of swim training in the comfort and privacy of your home.
Smart goggles show you a live screen inside your goggles showing your laps, speed, heart rate etc.  These goggles are configured to Hydro-Pool swim spas specifically. They download all your success to an app on your smart phone or device.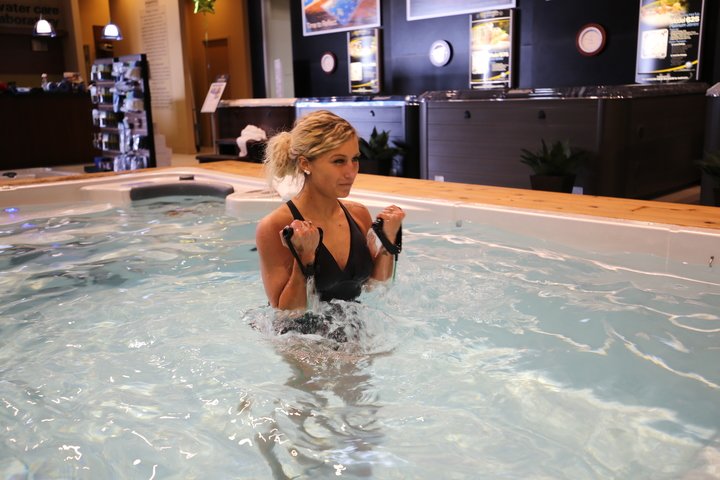 Aquatic fitness and water aerobics are among the most enjoyable, refreshing and rewarding forms of exercise. Being surrounded by hundreds of gallons of heated water offers many benefits, including low-impact hydraulic resistance, increased vertical and lateral stability, and reduced joint strain and inflammation. In addition, swim spas deliver greater swim area than other brands, more balanced hydrodynamics, and a variety of thoughtful fitness options to keep you engaged.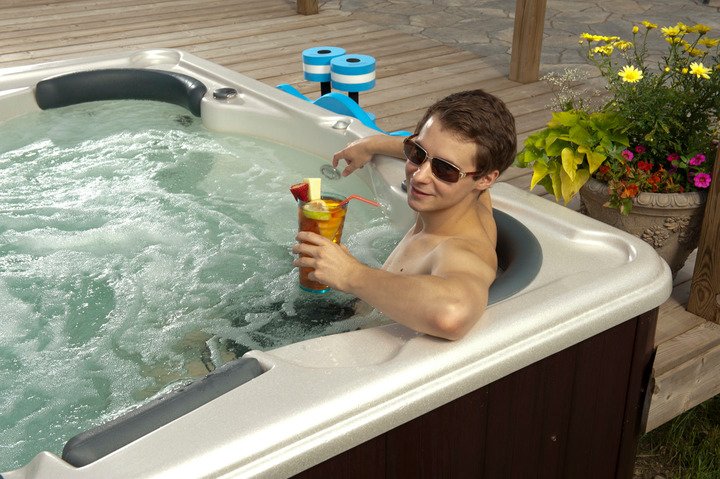 At the end of a long day, knowing you have a heated-water oasis waiting for you is priceless. Aquatic exercise is a great stress-reliever, boosting endorphins and lowering stress-hormone levels. Or maybe you just want to chill out, as the perfectly-balanced system of high-flow, low-pressure hydromassage jets penetrate deeply into your sore muscles. Let your stiff neck, tight shoulders and tension headaches melt away, leaving you stress-free, centered and ready for a night of restful sleep.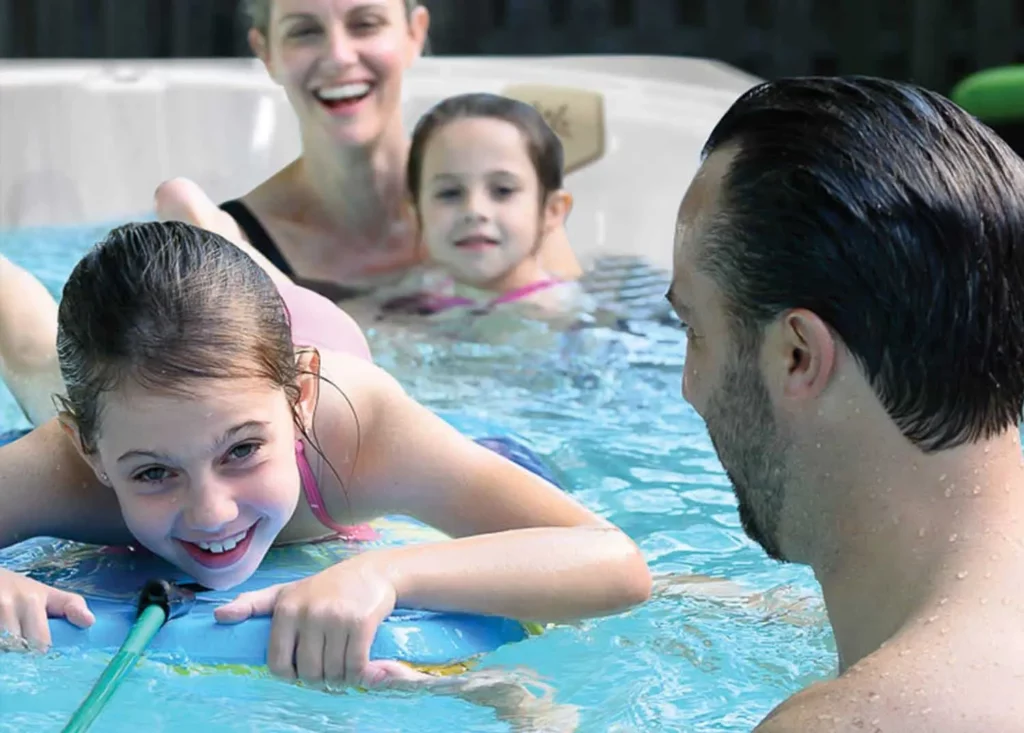 Splash around with the grandkids, enjoy quality time with friends and family, or share a romantic soak under the stars. Enjoy aquatic fitness as a couple, encouraging one another and using the opportunity to reconnect. With at least two therapy seats in every model, Hydropool SwimSpas are ideal for meaningful conversation with a friend or loved one.
Health & Wellness Benefits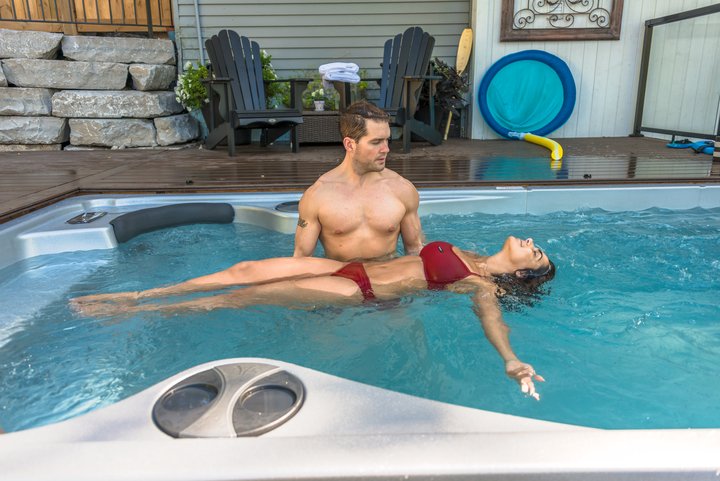 Even when you are motivated and able-bodied, maintaining a regular fitness routine is challenging. If you struggle with mobility issues or cope with advanced age, obesity, depression or other barriers to success, it can be even more difficult. Swim spas makes it as convenient as possible for you to enjoy the benefits of aquatic fitness and hydrotherapy. From general benefits, such as lower blood pressure, to symptom relief for conditions like arthritis, fibromyalgia, insomnia, and restless legs syndrome, a full spectrum of benefits await you.
Makes it easy to remove your cover and use your swim with ease.
WHY BUY A HYDRO POOL SWIM SPA?Exclusive Hydro-Pool swim spa jet system.
The best swim spa jetting system in the industry
Self-cleaning Hydro-Pool swim spa system
Keeps your hot tub clean and ready to go when you are.